Catherine Nagy Mowry
Beaded Buckskin corn husk doll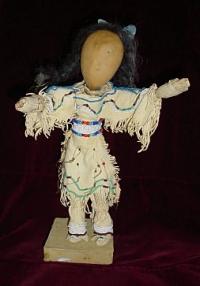 Specialties: Paintings and Corn Husk Dolls
A Registered member of the Miami American Indian Tribe
Location:
Catherine's paintings reflect the strength and guidance of native women. In the Miami Indian tribe, traditionally a matriarchal society, Women have always held high positions. It is women that kept the heart of the people strong throughout history despite the efforts of assimilation. Catherine captures an element of ancestral guidance, reflecting the traditional ways in which to live in her paintings.
Her high quality paintings are mixed media including, blending pencils, pastels, gauche, inks and acrylics.
Catherine also makes the traditional Corn Husk Dolls that the Miami women used to teach the young girls the beauty and grace in the skills of beading, making cloths, adornment, and moccasins.
Awards, Recognition, Articles:
3rd place in Traditional Dolls Division
Eiteljorg Indian Market
Send Email to: