Scott Roberts
Spider Pot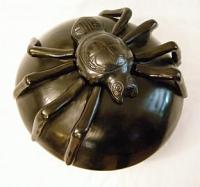 Specialties: Pottery
A Registered member of the Muscogee Creek & Choctaw American Indian Tribe
Location: Oklahoma
Scott produces authentic Native American Indian pottery in the style of the ancient Muscogee tribes of the Late Woodland and Missippian period 600 A.D. - 1650 A.D. His effigy pots represent an unusual and interesting look back in time to pre-columbian times. He has been interested in these cultures since he was a small child and has studied extensively to strive to form his pieces in a manner consistent with the ancient pots.
As a member of the Oklahoma Anthropology Association and Central States Archaeological Societies, Inc. he has had the opportunity to see many of the ancient works first hand.
His work is hand-built, hand-burnished, and pit fired in a meticulous process.
Awards, Recognition, Articles:
2013 Red Earth Festival
First Place Contemporary Pottery
Scott Roberts's Business Facebook Page
Send Email to: