Marsha Hedrick
Otter Platform Pipe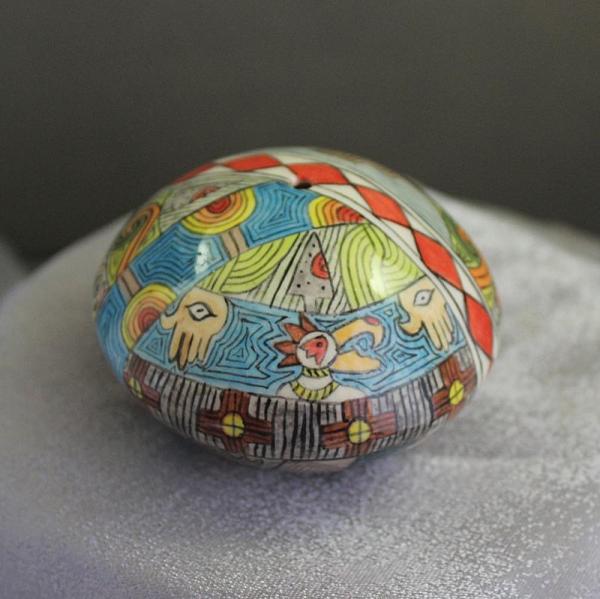 Specialties: Porcelain Jewelry and Sculpture
A Registered member of the Choctaw American Indian Tribe
Location: Arizona
Marsha's Otter Pipe is the latest to win an award, winning 1st place in Pottery Miniatures at the Heard Museum Indian Market in March 2015. You can see all of the pieces she has won awards on in the information section of her website.
Marsha's Native American pottery has become an important part of her artwork. She makes both traditional and contemporary pottery designs in a variety of clays, including native hand dug clay which she fires traditionally in a wood fire outdoors. She also makes contemporary pieces using both the native clay and porcelain. You can see many pieces of her award winning pottery on her website.
Marsha's native artwork includes both ancient and modern American Indian shapes, symbols and designs. From a very young age she has been very interested in her native heritage and for many years has been anxious to bring that heritage to her artwork. She has been working in porcelain for over 20 years and has been recognized as a Fellow by the International Guild of Miniature Artisans. It is this skill with miniatures and attention to detail that have made her native style jewelry so interesting and unique. She has also done some silver and lapidary work in the past. She brings all of these skills to her jewelry making in some cases combining the exquisite hand painted porcelain with silver and stone. The term wearable art is well suited to the jewelry Marsha makes. The hand painted animal portraits are as detailed as many large pieces you will see. Her attention to detail and unique vision for her jewelry result in unusual and lovely pieces of miniature art that are sure to become heirlooms.
visit her blog
Marsha's Porcelain Art
for information on all of the various art forms that Marsha makes.
Awards, Recognition, Articles:
1st Place Pottey Miniatures -- Heard Museum Indian Market -- March 2015
Marsha Hedrick's Business Facebook Page
Send Email to: